WE BE TRIPPIN' WITH UMA'S DAD, AKA BOB THURMAN, "THE MONK"
by Charles and Tara Carreon
"The CIA started Tibet House, using the Dalai Lama and his first ordained Western monk, [Robert] Thurman, now president of Tibet House in NYC, to do the job. Leila Luce is on the board of trustees of Tibet House, she is the wife of Henry Luce lll, whose father founded Time and was an early supporter of the CIA, using Time magazine journalists as operatives. Mrs. Luce is also on the board of Tricycle. 'In 1992, she joined the board of Tricycle: The Buddhist Review, for which she is also a consulting editor.' She has just been sued by her daughter and granddaughter for committing sexual abuses on her daughter and granddaughter."
-- Am Learning, aka Elsa Cloud (Leila Luce's daughter)

"Robert Thurman [is] the 'academic godfather of the Tibetan cause.'" (Time Magazine)
-- quoted in "An Interview with Victor and Victoria Trimondi," by James C. Stephens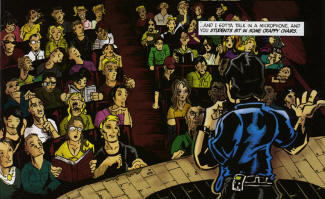 Did you ever notice how nobody ever heard of Bob Thurman, even though he was the first monk ordained by the Dalai Lama, until a short time after Uma showed her tits to the world in Dangerous Liaisons? You remember that scene, where John Malkovich, long before "Being John Malkovich," writes Glenn Close a nasty letter using Uma's perfect spine, as in naked, for a handy writing surface, complete with quill and nasty remarks. We had to wait until Geoffrey Rush chased Kate Winslett through an insane assylum for a scene of similar power. But I'm getting distracted from the main point -- Uma's tits. These are the spheres from which Bob really launched his assault on reason and sanity, and well empowered for the task they were. Just one look and we all knew that monk-shit was bull-shit. This man has great taste in ass.
Okay, Charles composed the foregoing, but now the torch passes to me, and I want to burn this little pig right in his house of sticks. Yes, this is the big bad wolf of liberation here to call Bob Thurman out. No, I don't need to, which is what this post is all about. Over a year ago I posted my expose of the truly empty nature of Bob's book "Inner Revolution," the "Brother Where Art Thou?" feel-good hit that everybody bought, nobody read, and for which we were none the worse.
Frankly, I was disappointed when all the spit-ballers on the Trike board did nothing to defend Bob. I thought they'd feel like I was torching their huts, but they displayed little or no concern about my revelation of the vacuity of Bob's life work. Comments like "Who cares what Thurman thinks anyway?" rained down hard and fast, drenching my parade. I had to move on to other issues that had more incendiary qualities.
But I dare say, like a stray marijuana seed that will poke its little serrated leaves up in the dirt outside the teacher's lounge, my irreverent critique of Uma's dad seems to have taken root. I mean, it's not every day a major cult monthly that retails in the food coop for $8.95 devotes eight precious full-color pages that could be devoted to Elizabeth Clare Prophet's global campaign for cash concentration to a cartoon that seems to lampoon the hell out of "The Fantastic Buddhaverse of Robert Thurman."
I loved it so much, I've transcribed it here for you from the Fall/Winter Issue of Andrew Cohen's "What is Enlightenment" magazine. Check it out, but before you walk through the grocery line. It will take a few minutes to read, or rather to "experience" what the author calls "another dimension, an alternate reality in which contemporary notions of spiritual transformation...mix and mingle with the mythic, the miraculous, and the other-worldly." Which is just what Charles says about Uma's tits.
Go to "Fantastic Buddhaverse of Robert Thurman"